Welcome to Cooper's Emergency Medicine Residency Program!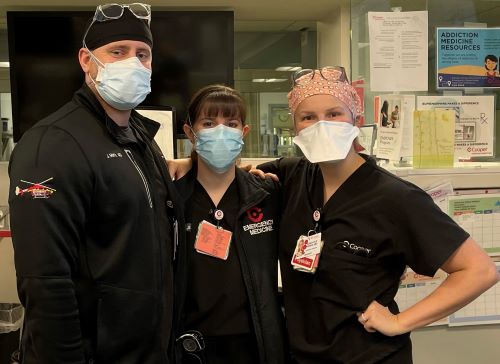 Located in Camden, NJ, just 10 minutes across the river from Philadelphia, PA, we strongly believe that we have the best of both worlds! About half of us live in New Jersey, while the other half lives in Philadelphia. We all have access to an abundance of restaurants, bars, museums, and other interesting things to do on days off. Our patient population is quite diverse, drawing from both the inner city of Camden as well as greater southern New Jersey, including many MD Anderson cancer patients.
In our ED, we see high acuity patients, and are very lucky to have an abundance of procedural opportunities - from intubation to fracture reduction/splinting to transvenous pacing. From day one of intern year, our residents manage complex patients and learn to perform lifesaving procedures in a controlled (but often chaotic) environment.
Cooper is a leader across multiple specialties in South Jersey, as exemplified by MD Anderson Cancer Center at Cooper, Cooper Heart Institute, Cooper Bone and Joint Institute, Cooper Neurological Institute, Center for Critical Care Services, Center for Urgent and Emergent Services, and the Center for Trauma Services, which includes South Jersey's only Level I Trauma Center and a busy Level II Pediatric Trauma Center. In Cooper's pediatric emergency department, we care for infants and children under the guidance of fellowship-trained pediatric emergency physicians.
Our program prides itself on its dedication to teaching, which starts with the layout of our department: all EM residents and attendings sit together on shift in an area we call "the bubble." Above the workspace we have a large TV screen where we frequently share imaging/cases and discuss as a group on shift. Learning also takes place across the street in the newly renovated state-of-the-art simulation center at our adjoined medical school, Cooper Medical School of Rowan University (CMSRU). We have many opportunities to engage with the medical students not only through clinical shifts, but also procedure labs and SIM cases.
We are taught by nationally recognized faculty who are committed to both bedside instruction and didactic teaching. Our faculty boast expertise in critical care, EMS and disaster medicine, administration and law, ultrasound, toxicology, medical education and research. We have incredible department leadership, up to the highest level of hospital administration. Our Department Chair Dr. Michael E. Chansky (whom we affectionately call "Boss") works frequently in the emergency department despite his numerous administrative responsibilities, including but not limited to his role on Cooper's Board of Trustees. Cooper's Co-President/CEO, Anthony "Mazz" Mazzarelli, is also an emergency medicine physician who still works clinically alongside us in the department.
We believe one of the most valuable parts of our program is the overwhelming sense of community. From the residents to attendings to nurses and techs, everyone in our department operates strictly on a first name basis. We also always meet 15 minutes before shift to walk into the department together, united as a team - this might seem like a small detail, but it's one of our favorite traditions in the program.
While we work hard in the emergency department, we also definitely enjoy our free time, and work to accommodate residents' schedule requests so they have enough time off to attend life events and other important gatherings. We frequently spend time outside the hospital with each other and with our attendings. Some of our favorite activities include going to Philadelphia sporting events (go Eagles!), our annual residency retreat at the Jersey shore, nights out in Philadelphia, Byrne's annual game night, backyard barbecues, department wide holiday parties, dog park dates and much more. With Camden's close proximity to New York City, Washington DC, the Jersey Shore and the Pocono Mountains, there are endless ways to spend time off. Our residents also often enjoy exploring local outdoor activities, art museums, great restaurants, and music venues.
We truly pride ourselves on the tight-knit community we have formed within our residency and mean it when we say that Cooper's emergency medicine residency is an outstanding program and one of the best places you could spend the next three years.
We understand how stressful interview season can be, especially given the restraints of the ongoing pandemic. Feel free to email any of us. We are more than happy to answer any questions, and/or elaborate on the reasons we each chose to train at Cooper. We look forward to meeting you virtually along the interview trail and can't wait to see which 13 of you will join our Cooper family next year.
Best,
Abby Renko, MD
Renko-abagayle@cooperhealth.edu
Kate Billings, MD
Billings-katherine@cooperhealth.edu
Jake Martin, MD
Martin-jacob@cooperhealth.edu