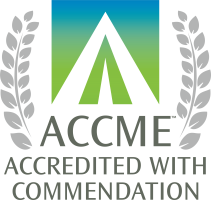 The 2023/2024 Academic Year marks our 32nd accredited year as a national sponsor of CME.  In July 2022, Cooper received a six-year Accreditation (until July 31, 2028). Cooper is the only hospital or health system in southern New Jersey with national accreditation.
One very important aspect of The Cooper Health System is its teaching mission. We are committed to educating our medical staff; however, our CME program also reaches out to physicians in the tri-state area and nationally. With these CME activities, we address the needs of both primary care physicians and specialists.
For accrual reports, please email CME@cooperhealth.edu.
Department of Continuing Medical Education Staff
Administrative Director: Loretta Aloi, MBA
Manager: Kelly A. Kupniewski
CME Meeting Planner: Kristy L. Kelly
CME Coordinator: Victoria M. Frazier
CME Coordinator: Alyssa N. Jurski