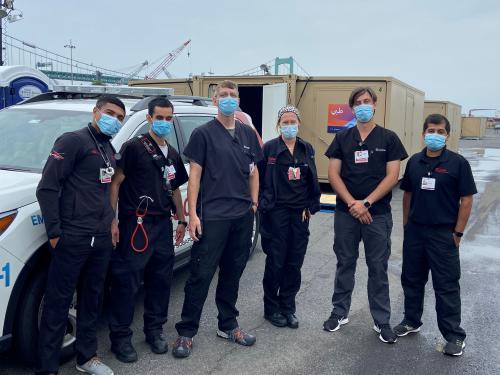 Cooper's EM program offers residents a unique and comprehensive experience in emergency medical services (EMS). The Division of EMS, Disaster, and Transport Medicine provides expertise in emergency medicine services, disaster medicine, and public health. Our residents provide daily over-the-phone medical command to our ground and flight crews and receive first-hand experience with prehospital care on ground EMT and paramedic ambulances as well as dedicated EMS physician vehicles.  Residents also have the option to fly with our air medical crews on rotary-wing aircraft, which provide on scene and critical care transport services to southern New Jersey.   Recently, residents had the opportunity to staff an Afghan evacuee site, providing urgent medical care to thousands in need.
Cooper's ACGME-accredited EMS Fellowship further enriches the resident EMS and disaster training through dedicated research, didactics, and journal club. Residents graduate with an understanding of the role of physicians in EMS medical direction and medical command, how to collaborate with different organizations during a disaster response, and how to provide appropriate care during mass casualty incidents.
The Division of EMS/Disaster Medicine:
Offers medical direction to Basic Life Support, Advanced Life Support, and Air Medical Services to implement protocols and to support an effective performance improvement process for a standardized level of care.
Provides subject matter expertise related to emergency medical services and disaster medicine, including emergency medicine, trauma, pediatrics, toxicology, infectious diseases, environmental safety, and CBRNE.
Provides education and training for all audiences involved in emergency medical services and disaster management through didactics, simulation technology, performance improvement activities, and the National Disaster Life Support Regional Training Center.
Participates in research initiatives to maintain the highest level of preparedness and pre-hospital care through evidence-based medicine.
Supports a medical strike team that can respond to small and large natural, chemical, biological, radiological, nuclear, and traumatic mass casualty events.
Supports medical operations at scheduled large public venues.
Collaborates with local, state, regional, and federal partners to assist in the implementation of an effective EMS and emergency management system.
Curriculum
The curriculum in EMS and Disaster Medicine will provide residents first-hand experience in pre-hospital care, EMS medical command, and disaster preparedness/response. Emergency physicians interact with EMS providers regardless of the type and location of the emergency department; as a result, a basic understanding of the role of EMS and different EMS models is necessary to provide appropriate emergency care to patients transported by ambulance. Emergency physicians are also expected to respond to disasters; they must know how to operate safely in a disaster situation and collaborate with different organizations to provide appropriate care.
Rotation
The EMS rotation at Cooper provides an in-depth exposure to both EMS and disaster medicine.  Residents complete one Basic Life Support (BLS) shift and one Advanced Life Support (ALS) shift during July of their intern year, providing an early introduction to local pre-hospital care and a better understanding of our patient population. The longitudinal experience in EMS continues with intermittent, full-day clinical EMS shifts throughout first, second, and third years of residency. While still working alongside our prehospital crews, the majority of these shifts will be spent with faculty from the Section of EMS, providing insight into EMS physician response and the role of the EMS medical director. Residents have the option to spend a shift with one of our aeromedical crews or in the 9-1-1 dispatch center. The EMS experience continues with base station medical command training and call-taking for ground and air EMS units while on their ED shifts. During their third year, residents will prepare and present an educational lecture for pre-hospital providers.
EMS and Disaster Track
The goal of the EMS and Disaster track will be to obtain Emergency Medical Services expertise in order to ensure a seamless transition into an ACGME-accredited EMS fellowship. Over a 2½ year period, residents who choose to focus on EMS will become familiar with clinical prehospital medicine and systems oversight. They will become proficient with EMS protocol development and implementation, as well as skills in grantsmanship, and will participate in quality assurance and improvement projects. They will perform the role of an assistant EMS medical director, providing direct field supervision for local EMS agencies. Those with an interest in Disaster Medicine will also participate in hospital and regional preparedness initiatives, and become familiar with Disaster Life Support, Hazmat operations, CBRNE, and the National Incident Management System. The EMS and Disaster track is highly customizable and is intended to allow residents to carve out a solid niche in pre-hospital care. 
Elective
Second and third-year residents with a passion for EMS and Disaster Medicine can enroll in an elective that specifically meets their interests. In this elective, residents will participate in all aspects of our EMS medical direction program, including field response, EMT education and training, protocol development, state legislation, performance improvement, and outreach activities. The Disaster Medicine elective adds involvement with the hospital Incident Management Team and disaster preparedness planning. Additional courses are available to enhance their knowledge base in disaster medicine.
Fellowship
Cooper University Hospital (CUH) offers a one-year ACGME-accredited fellowship training program to prepare physicians for the practice of emergency medical services, a clinical specialty that includes the care of patients in all environments outside of traditional medical care facilities such as clinics, offices, and hospitals. For more information, please click here.
If you have any questions, please feel free to email us:
Gerard Carroll, MD, EMT-P, FAEMS
EMS Medical Director
Department of Emergency Medicine 
carroll-gerard@cooperhealth.edu
Aman Shah, MD
Associate EMS Medical Direction
Department of Emergency Medicine
shah-aman@cooperhealth.edu
Lisa Drago, DO, FAAP
EMS Medical Director, Pediatrics
Division of Pediatric Emergency Medicine
Department of Emergency Medicine
drago-lisa@cooperhealth.edu
Alexander Kuc, MD
Assistant EMS Medical Director
Department of Emergency Medicine
kuc-alexander@cooperhealth.edu
Simon Sarkisian, DO, MS, FAAEM
Medical Director, Disaster Medicine
Division of EMS and Disaster Medicine
Department of Emergency Medicine
sarkisian-simon@cooperhealth.edu