Cooper University Health Care is the leading tertiary-level provider serving the southern New Jersey region. Consumers and physicians recognize the system as being the region's leading medical center. In annual surveys assessing the region's medical care, Cooper's physicians are frequently recognized as "Top Doctors" in their fields. These world-class physicians are the teachers with whom you will interact during your educational experience.
The Cooper University Health Sciences Campus is the clinical site of Cooper Medical School of Rowan University (CMSRU), which graduated its first class of medical students in 2016.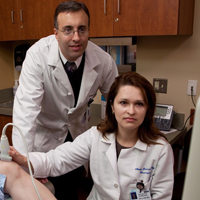 The Rheumatology Fellowship at Cooper University Health Care offers a breadth and depth of clinical rheumatology experience and multidisciplinary didactic and practical instruction in a wide array of allied fields. This two-year fellowship program accepts one candidate per year. Inpatient consultations are performed at the main campus of Cooper University Hospital in Camden. Outpatient experience is gained in Voorhees and Willingboro, NJ.
The fellowship program is structured to ensure that each fellow has the opportunity to acquire the knowledge, clinical skills, professional attributes, and experience required to become an outstanding practicing Rheumatologist. During the first year, emphasis is on instruction in clinical rheumatology. Fellows hone their skills of rheumatologic history taking, physical examination, differential diagnosis, understanding treatment options, and management of complications of disease and treatment. Fellows learn arthrocentesis, joint and soft tissue injection techniques, and how to perform synovial fluid analysis. The Division of Rheumatology provides all bone densitometry reports for Cooper University Health Care and fellows become well versed in DEXA interpretation.