Welcome to our Endocrinology Fellowship Program at Cooper!
Cooper's mission is: "To serve, to heal, to educate." Cooper is committed to serving its community and has kept its roots in the city of Camden since 1887. The physicians and leadership at Cooper are proud to continue to serve this community with exceptional care.
Cooper also has a long history of commitment to medical education. It served as a clinical site for medical students of Robert Wood Johnson Medical School before the opening of the Cooper Medical School of Rowan University, which graduated its charter class in 2016. It has also maintained a full complement of residency and fellowship programs. We take pride in medical education and are invested in our trainee education. You will find that many of our faculty have a long history at Cooper as previous trainees here. This is a testament to it being a great place to practice medicine.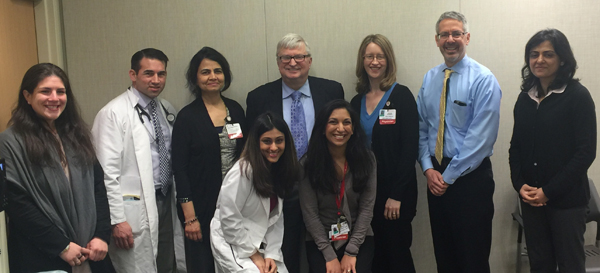 At Cooper you will find diversity, camaraderie, and a committed teaching faculty. Cooper is a big family, and we all work together in a collaborative effort to provide the best care for our patients and the best education for our medical students, residents, and fellows. We all appreciate what each service contributes to the care of our patients and use each other's expertise.
The Endocrinology Fellowship Program offers a great diversity of experiences from our continuity clinic in Camden to suburban experiences in Cherry Hill and Sewell. Because Cooper is a tertiary referral center with exceptional endocrine and pituitary surgeons, fellows see many rare and interesting endocrine diseases. You will not miss anything in your training here!
We love what we do. Endocrinology is challenging and exciting, and training and teaching fellows while doing what we love makes it even more fulfilling.
We welcome you to peruse the rest of this website and I hope you will find endocrine at Cooper as exciting as we do.
Sincerely,