Dr. Kozusko is now accepting new consultations.
Appointments can be made by calling 856-342-3161.
Meet Our Current Chief Resident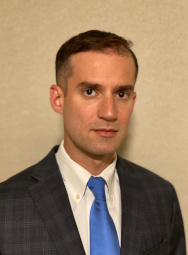 Steven Kozusko, MD MEd
Chief Resident, Plastic and Reconstructive Surgery

Dr. Kozusko is our current Chief Resident in the Division of Plastic and Reconstructive Surgery at Cooper University Health Care. He was born and raised in Monmouth County, NJ. He obtained his Bachelor of Arts from Boston College. While teaching middle school in Kentucky, he obtained his Masters of Education at the University of Louisville. Subsequently, he earned a Doctor of Medicine from Georgetown University School of Medicine. He has completed a year of general surgery training at Monmouth Medical Center under the leadership of Dr. Gregory Greco. After completing three further years of plastic and reconstructive surgery training at the University of Tennessee Health Science Center, he came to Cooper University Health Care where he has completed another three years of training in the specialty under the mentorship of Dr. Steven Bonawitz.
Dr. Kozusko is in his eighth year of surgical training, ending in June 2023, now serving as the Chief Resident. Next year he will attend the University of Virginia for a fellowship in hand surgery before entering practice.
Services Offered
Dr. Kozusko is excited to expand the cosmetic services offered through our amazing Chief Resident Clinic!
Cosmetic
Cosmetic Breast
Augmentation
Mastopexy (Lift)
Reduction
Gynecomastia (Male Breast Surgery)
Cosmetic Body
Abdominoplasty
Liposuction
Brachioplasty (Arm Lift)
Thighplasty (Thigh Lift)
Cosmetic Face
Face and Neck Lift
Blepharoplasty (Upper and/or Lower Eyelids)
Brow Lift
Rhinoplasty (Nose)
Fat Grafting
Injectables and Botox
Tear Trough
Cheeks
Nasolabial Folds
Lips
Marionette Lines
Forehead Wrinkles
Frown Lines (elevens)
Crow's Feet
Please inquire as additional offered procedures may not be listed above. We do not offer BBL (Brazilian Butt Lift).
About Our Clinic
Cooper University Health Care is proud to provide patients with the opportunity to have cosmetic plastic surgery procedures performed at a significant discount (>50% reduced surgeon's fee) through our Plastic Surgery Chief Resident Clinic.
Dr. Kozusko will serve as your surgeon and physician. He will be supervised throughout the course of your care by an attending Plastic Surgeon at Cooper University Health Care. Your safety is our number one priority before, during, and after surgery.