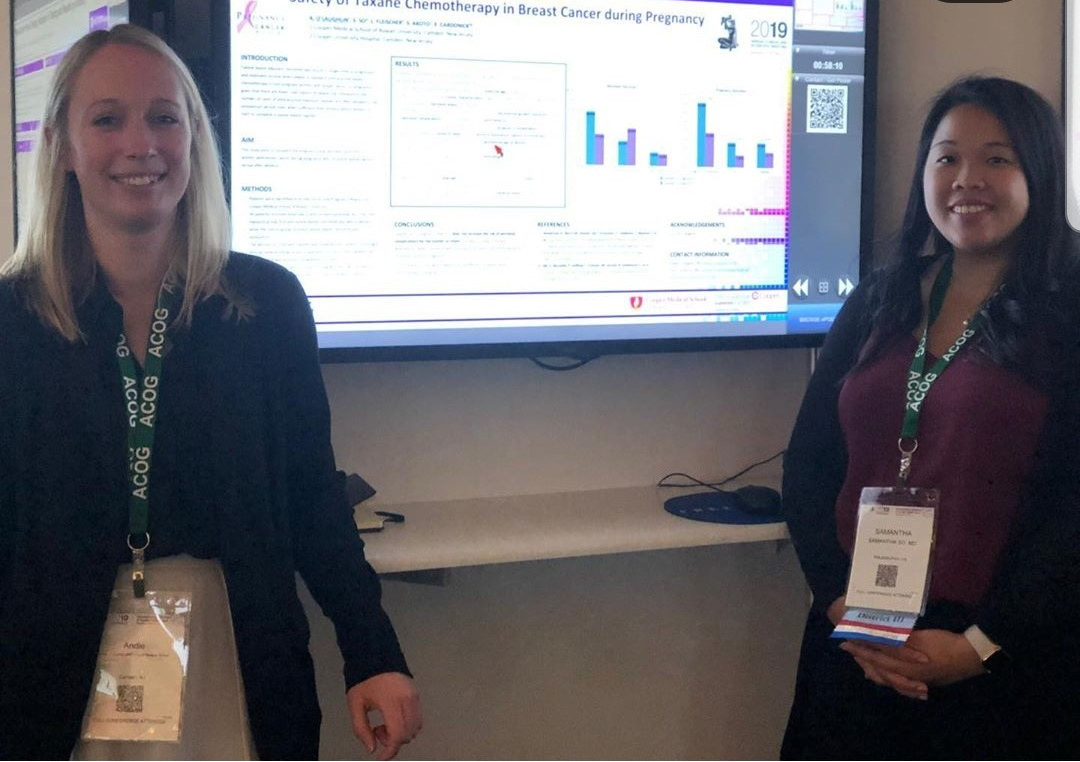 The OB-GYN Research Division's mission is to identify emerging scientific areas and ensure that we are poised to lead in those areas, to develop and maintain infrastructures required for conducting cutting edge research, to promote continuing education for the research team, to identify the needs of the research community and to align our services to meet those needs. The division will direct research efforts to tackle significant disease related problems, especially in the areas necessary to transfer new discoveries towards drug production for treatments.
Our goal is to support the research and educational missions of the Department of Obstetrics and Gynecology; to generate knowledge that will advance understanding and the treatment of disease that affect women and their reproduction. Due to the expansion of knowledge in genomics, proteomics, metabolism and stem cell biology the division will seek involvement in translating these advances into solutions to improve human health and well being.
Division of Research Goals and Responsibilities
To provide education to all department staff in the conduct of research
To assist all staff in the development and conduct of research
To act as a research related resource for all department staff
To disseminate research opportunities, funding opportunities, and research findings to all department staff
To review all research projects to be conducted by department staff
To act as a gatekeeper of all research conducted in the OB/GYN department
Research Programs
Global Initiatives
Cervical cancer screening in Ghana
Fistula repair in Niger
Gynecological Issues
Uterine fibroids
Endometriosis
Menopause
Contraception
Perceived and Real Barriers to Accessing Long-Acting Reversible Methods of Contraception
Principal Investigator: Saifuddin Mama
Co-Investigators: Amanda Malik, Lauren Finch, Isabella Gloria Silvestre, Bianca Hall, Dominique McKeever, Hilary McGrath, Neel Iyer, Samantha So, Tieg Beazer, Alexander Santangelo
Obstetric Issues and Disorders
Hypertension
Preterm labor
Genetic anomalies
Thrombophilia in pregnancy
Fetal cardiac anomalies
Cancer and pregnancy
Gastroschisis
OB/GYN postoperative care
HIV and pregnancy
Diabetes and pregnancy
Postpartum depression
"Association of Hypertensive Disorder of Pregnancy with Sleep-disordered Breathing"
Principal Investigator: Meena Khandelwal
Co-Investigators: Jonathan Kass, Claudia Rugama, Cynthia Kramme, Alexander Santangelo
"Informed Patients Lead to Healthy Communities: Patient Understandings of Prenatal Aneuploidy Testing"
Principal Investigator: Amy Reed, Ph.D. (Rowan)
Co-Investigators: Robin Perry, Benjamin Caplan
Cooper University Health Care is a member of the Perinatal Research Consortium:
A Phase 3, "Randomized, Double or Observer-blinded, Placebo-Controlled Trial to Evaluate the Efficacy and Safety of a Respiratory Syncytial Virus (RSV) Prefusion F Subunit Vaccine in Infants Born to Women Vaccinated During Pregnancy"
Principal Investigator: Peter Chen, MD
"Randomized Trial of Chlorhexidine vs Povidone-Iodine for Post-Cesarean Infection"
Principal Investigator: Rori Dajao, MD
"Cervicovaginal Fluid Biomarker for the Identification of Spontaneous Preterm Birth" – Study by Carmetix, Netherlands
Principal Investigator: Sook Kim, MD
Co-Investigator: Stephanie Kass, MD
Part of the Pan American Society of Placenta Accreta Spectrum (PAS2) – Dr. Khandelwal
Shamshirsaz AA, Carusi D, Shainker SA, Einerson B, Khandelwal M, Erfani H, Shamshirsaz AA, Modest AM, Aalipour S, Fox KA, Lyell DJ, Belfort MA, Silver RM. Characteristics and Outcomes of Placenta Accreta Spectrum in Twins versus Singletons: A Study from the Pan American Society for Placenta Accreta Spectrum (PAS2). Am J Obstet Gynecol. 2020; 222(6):624-5. doi: 10.1016/j.ajog.2020.01.034. PubMed PMID: 31981509.
Cancer in Pregnancy Registry – Dr. Elyce Cardonick
Incidence of Neonatal Neutropenia and Leukopenia After In Utero Exposure to Chemotherapy for Maternal Cancer.

La Nasa M, Gaughan J, Cardonick E. Am J Clin Oncol. 2019 Nov;42(11):884.
 
Obstetric and maternal outcomes in patients diagnosed with Hodgkin lymphoma during pregnancy: a multicentre, retrospective, cohort study.

Maggen C, Dierickx D, Lugtenburg P, Laenen A, Cardonick E, Shmakov RG, Bellido M, Cabrera-Garcia A, Gziri MM, Halaska MJ, Ottevanger PB, Van Calsteren K, O'Laughlin A, Polushkina E, Van Dam L, Avivi I, Vandenberghe P, Woei-A-Jin FJSH, Amant F; International Network on Cancer, Infertility and Pregnancy. Lancet Haematol. 2019 Nov;6(11):e551-e561. doi:
 
Gastric cancer during pregnancy: A report on 13 cases and review of the literature with focus on chemotherapy during pregnancy.

Maggen C, Lok CA, Cardonick E, van Gerwen M, Ottevanger PB, Boere IA, Koskas M, Halaska MJ, Fruscio R, Gziri MM, Witteveen PO, Van Calsteren K, Amant F; International Network on Cancer, Infertility and Pregnancy (INCIP). Acta Obstet Gynecol Scand. 2020 Jan;99(1):79-88. doi: 10.1111/aogs.13731. Epub 2019 Oct 16.
 
Preliminary results of identification and quantification of paclitaxel and its metabolites in human meconium from newborns with gestational chemotherapeutic exposure.

Cardonick E, Broadrup R, Xu P, Doan MT, Jiang H, Snyder NW. PLoS One. 2019 Feb20;14(2):e0211821
Pelvic Medicine
Pelvic organ prolapse
Interstitial cystitis
Efficacy of various "bladder sling" products
Botox in the urogynecologic population
Long term success of female pelvic reconstructive surgery
Dr. Saifuddin Mama
Phase 2, Multicenter, Double-blind (Sponsor-unblinded), Randomized, Placebo-Controlled Study of the Safety and Efficacy of Elagolix in Women with Polycystic Ovary Syndrome. (IND#139609) – to start
A Multicenter, Observational Cohort Study of Women Receiving Standard of Care (SOC) for the Treatment of Pelvic Pain Attributable to Suspected or Confirmed Endometriosis – in process
Publications
1. Standardized terminology of apical structures in the female pelvis based on a structured medical literature review.  Balgobin S, Jeppson PC, Wheeler T 2nd, Hill AJ, Mishra K, Mazloomdoost D, Dunivan GC, Anand M, Mama ST, Bochenska K, Lewicky-Gaupp C, Balk EM, DeLancey J, Corton MM; Society of Gynecologic Surgeons Pelvic Anatomy Group. Am J Obstet Gynecol. 2020 Mar;222(3):204-218.
2. Advances in the management of endometriosis in the adolescent. Mama ST. Curr Opin Obstet Gynecol. 2018 Oct;30(5):326-330
Dr. Lioudmila Lipetskaia
"Improving quality of life for gynecologic cancer survivors through introducing early screening and intervention for pelvic floor dysfunction"
Funded by Rowan University Grants
1. "Urinary incontinence and quality of life in endometrial cancer patients after robotic-assisted laparoscopic hysterectomy with lymph node dissection".  Lipetskaia L, Sharma S, Johnson MS, Ostergard DR, Francis S. J Obstet Gynaecol. 2019 Oct;39(7):986-990.
2. "Do anxiety traits predict subjective short-term outcomes following prolapse repair surgery?"  Collins AF, Doyle PJ, Duecy EE, Lipetskaia LV, Lee TG, Buchsbaum GM
Gynecological Oncology
Malignant disease in OB/GYN population
Cervical cancer
Dysplasia in pregnancy
Reproduction, Endocrinology, and Infertility
Infertility treatment
In vitro fertilization
Embryo transfer
Miscarriage
Cancer and Pregnancy National registry
Infectious Disease
Health research
Complimentary and Alternative Medicine
Resident Research
Gyn postoperative care
Preterm labor and preterm birth
Infertility
Sexual function in women with gyn cancers
Urinalysis and the urogynecology population
Type of pelvis and clinical pelvimetry
"Contraceptive management after unfulfilled immediate postpartum sterilization"
Principal Investigator: Bianca Hall
Faculty Advisor: Carolyn Ross
Co-Investigators: Sabrina Brunozzi, Robin Clark
"Maternal and Neonatal Outcomes Associated with Stage 1 Hypertension in Pregnancy"
Principal Investigator: Neel Iyer
Faculty Advisor: Meena Khandelwal
Co-Investigators: Christina Boras, Olivia Homer, Amanda Malik
"Minor Trauma in Pregnancy"
Principal Investigator: Tieg Beazer
Faculty Advisor: Meena Khandelwal
Co-Investigators: Stephanie Kass, Saba Daneshpooy
2019-2020 Resident QI/PI Projects:
"Getting cut: decreasing the number of Oxycodone tablets prescribed to post operative c-section patients"
Sabrina Brunozzi, MD; Cosette Gabriel, DO; Stephanie Kass, MD; Chelsea Katz, MD
Faculty Mentor: Rori Dajao, MD
"Skin to Skin in the OR"
Robin Clark, MD; Amanda Malik, MD; Hilary McGrath, DO; Dominique McKeever, MD
Faculty Mentor: Lori Adriance, DO
"Does Telemedicine decrease postpartum no show rate?"
Sagar Chokshi, DO; Annie Masterson, MD; Devon Smith, DO; Laura Zalles, MD
Faculty Mentor: Kathy Schaeffer, DO
Fellowship Research
Urogynecology
Gynecological Oncology
"Vaginal Hysterectomy Rates Before and After Implementation of a Multi-Tier Intervention to Increase Vaginal Hysterectomy Performance at a Teaching Hospital"
Principal Investigator: Tess Crouss
Co-Investigators: Lioudmila Lipetskaia, Devon Smith
"Urinary Tract Infection Following Intradetrusor Onabotulinumtoxin A Injection: Single vs. Multi-dose Prophylactic Antibiotic Treatment Regimens"
Proposal presented at Society of Gynecologic Surgeons – Advancing Female Pelvic Medicine & Reconstructive Surgery (AUGS-SGS) Fellow's Pelvic Research Network:
Chosen to receive help with recruitment for this study
Setting up a registry in redcap
Multidisciplinary