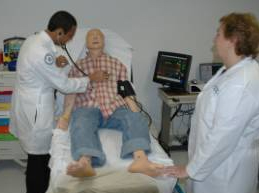 The Cooper University Hospital Simulation Laboratory (SimLab) is dedicated to advancing health care provider education at all clinical levels. Our goal is to achieve realistic, accurate, real-time medical simulation using state-of-the art technology. Computer-generated scenarios, simulating acute medical conditions in life like mannequins/trainers, allow participants to develop skill sets in a safe, controlled environment removed from the clinical setting.
One-to-one and small-group instruction utilizing lifelike mannequins is conducted by facilitators trained in the use of computer driven simulation adjuncts. Attention is focused on maintaining a non-threatening learning environment, providing adequate mechanisms for positive feedback and developing a supportive student-facilitator relationship.
The SimLab currently employs adult, pediatric, and specialty VR simulators to train residents in patient assessment, respiratory and cardiac arrest, acute airway emergencies, sepsis management, central line placement, laparoscopy, bronchoscopy, and endoscopy/colonoscopy. Course development is underway on team-building and crisis management. In addition, the facilitator training course offers the opportunity for motivated residents to become involved in the SimLab educational environment as instructors in areas of clinical interest. .