The City of Camden is located directly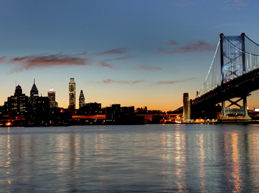 across the Delaware River from Center City Philadelphia. It is approximately 8 square miles and is bordered on the west by some of the wealthiest towns in the state of New Jersey. Camden, itself, has a rich past which includes periods of prosperity rarely rivaled in our country's history. Camden is the birthplace of recorded sound and the resting place of Walt Whitman. 
The last few decades have been challenging for the city. While neighboring towns have flourished, Camden has been among the nation's most dangerous cities and was recently crowned the poorest city in the country for its size. Cooper University Hospital, the city's largest employer, plays a vital role in supporting this community. Cooper has several community outreach programs, many of which provide opportunities for housestaff to participate.
Cooper's location provides residents, fellows and medical students with an incredible spectrum of patients. There is not only the mix of patients from the inner city and the suburbs, but also a nearby concert venue visited by hundreds of thousands of people each year, the Adventure Aquarium, and the fans of the Camden Riversharks Minor League Baseball team. More than a million people a year visit the Camden Waterfront, providing a stunning variety of cases in our emergency department and inpatient facilities.
Located a block from New Jersey Transit's Walter Rand Transportation Center, the Cooper Campus is a beautiful, safe facility that has grown substantially over the past decade. From the ten-story Roberts Pavilion and the new Cooper Medical School of Rowan University to the brand new MD Anderson Cancer Center at Cooper and meticulously landscaped grounds, the Cooper Health Sciences Campus is home to world-class facilities located just minutes from Philadelphia.