The Cooper University Hospital Gastroenterology Fellowship program offers a variety of didactic experiences dedicated to comprehensive training for clinical practice as well as preparing for the gastroenterology board exam. 
Case Conference
Tuesday conference begins with an interesting case in Gastroenterology or Liver Disease followed by fellow-led didactics regarding the case. The conference is an interactive exercise among the fellows and the faculty. The objective of the conference is for the trainees to leave with an enhanced understanding of the topic that was reviewed.
Tuesday morning conference also involves review of recent systems based articles in the medical literature. This presentation allows for updates in medical economics, malpractice, and other innovative ideas in medicine.
Didactic Lecture Series
Each Wednesday, a member of the faculty gives a formal didactic lecture pertinent to clinical GI. Topics related to gastroenterology and liver diseases are presented, and then knowledge is assessed using board pertinent questions and discussion. Additional lectures are given by surgical oncology, colorectal surgery, dermatology, and other specialties which offer diverse perspectives on GI diseases. To better prepare trainees for future practice, experts in respective fields lecture on medical ethics, medical malpractice, contract negotiations, and other relevant topics are covered in this format.
Esophageal Motility Conference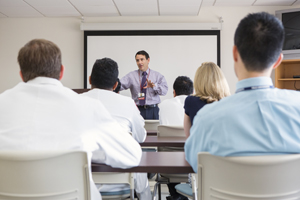 Every week, Dr. Joshua DeSipio reviews cases employing esophageal manometry and impedance monitoring. Each year begins with an introduction lecture outlining basic manometric and pH testing. Subsequently through the year, fellows are given interactive cases and assist Dr. DeSipio in making the appropriate diagnosis. Cooper's esophageal disease program is rapidly growing and the fellows benefit from the wealth of Dr. DeSipio's experience.
Inflammatory Bowel Disease (IBD) Case Conference
Once a month, fellows present a difficult case pertinent to inflammatory bowel diseases. With the help of our IBD experts, the diagnosis is made and pertinent learning points in the case are outlined and discussed.
Pathology Conference
As part of our multi-disciplinary training, pathologist Dr. Miles McFarland leads a monthly GI and liver pathology conference. Each year starts with esophageal endoluminal diseases and progresses through the GI tract. Fellows evaluate pathologic specimens, from cases at Cooper University Hospital.
Research Conference
Faculty and fellows discuss current research topics in this monthly meeting. Fellows receive guidance in writing grant proposals and IRB proposals. Additionally, ongoing project updates are given and group discussion aides in optimizing scientific papers prior to publication.
Journal Club
The field of gastroenterology and liver diseases is a rapidly evolving and technologically anchored profession. Each month, fellows select articles of their choosing from peer reviewed literature and dissect the scientific methodology and statistics. Conferences are attended by fellows and core faculty, who offer interactive discussion on the proposed topic.
Performance Improvement (PI) Project Updates
Within the ever changing health care climate, the gastroenterology fellowship program realizes the important role that our physicians play in healthcare systems. Fellows take part in a quality improvement project to improve upon the quality of care delivered at our institution.
Gastrointestinal Tumor Board
Tumor Board provides exposure to the diagnosis and multi-disciplinary management of complex neoplastic diseases of the GI tract. Conferences are attended by members of the hematology/oncology, radiation oncology, surgical oncology, radiology, and pathology departments. There are additional teleconferences with MD Anderson Cancer Center in Houston, Texas.
Liver Disease Tumor Board
Fellows attend a multi-disciplinary conference involving the care of individuals with hepatic neoplasms on the hepatology rotation. This conference is attended by members of the transplant team, both surgical and medical, interventional radiology, radiology and pathology.
Liver Transplant Meeting
Fellows are invited to participate in liver transplant meetings. Cases are discussed and fellows are expected to present patients seen during their experience for transplant evaluation. Active discussion between transplant surgery, psychiatry, infectious diseases, and social work allows for directed patient care.
Sample Conference Schedule